About CBT Clinic of Chicago
A practice specializing in Cognitive Behavioral Therapy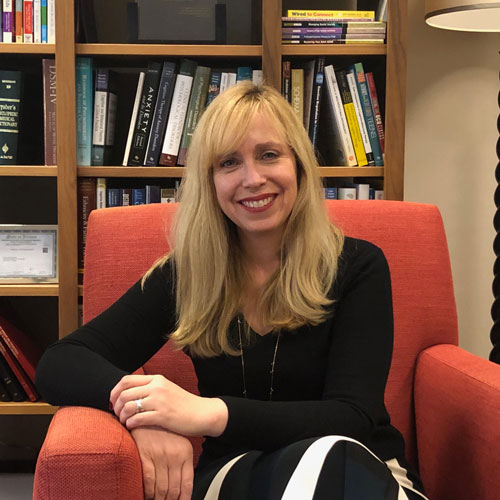 Elise D. Massie, Ph.D.
Dr. Massie earned her doctoral degree in clinical psychology at the University of Illinois at Chicago (UIC). She completed her clinical internship at the Edward Hines VA Hospital and a postdoctoral fellowship in the specialty area of anxiety disorders at the University of Illinois at Chicago (UIC) Medical Center. She served on faculty for several years in the Department of Psychiatry at the UIC Medical Center, where she treated patients in the nationally-recognized Stress & Anxiety Disorders Clinic, supervised psychiatry residents and clinical psychology externs, and taught seminars on the treatment of specific anxiety disorders as well as the application of cognitive-behavioral therapy. In 2010 Dr. Massie opened the CBT Clinic of Chicago, a practice specializing in the application of cognitive-behavioral therapy for a range of psychological disorders and related difficulties.
What is Cognitive-Behavioral Therapy (CBT)?
CBT is a practical, action-oriented therapy that focuses on modifying one's thinking, behavior, and emotional responses for the purpose of increased functioning.
Treatment is informed by empirically supported theories of psychopathology and has been shown to be effective for a multitude of psychological disorders.
Therapy sessions are conducted using a collaborative approach between the therapist and patient. The overarching goal of treatment is to help individuals solve difficulties through identifying and changing dysfunctional beliefs about the self, others, and the world.
Treatment is individualized to target the unique presentation of symptoms and problems with which each individual presents. The length of treatment varies for each person, such that treatment can be relatively short-term (i.e., 3-6 months) for those individuals with straightforward difficulties and longer term for those individuals with more complicated presentations (i.e., over 1 year).
Sessions are typically scheduled on a weekly basis upon the initiation of treatment, with the frequency of sessions tapering as symptoms improve.